Ever wondered how you, as an individual, can have a large, positive impact on your community and be a catalyst for sustained social change? This nine-week program will introduce participants to the Social Change Model of Leadership and the "Seven C's of Change". The program will develop participants' leadership and cultural competencies through self-identity and social identity activities, experiential learning, capstone presentations, self-reflection, cross-cultural dialogue, and community commitment.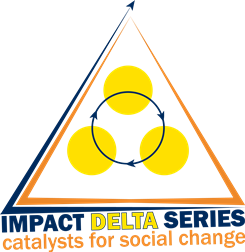 Program Completion
Successful completion of the program consists of:
Attendance to and participation in ALL Impact Delta workshops and activities.
Completion of all assignments and reflection activities.
Earning a cumulative GPA of 2.0 or higher by the completion of program requirements.
As a participant of Impact Delta, you will be able to demonstrate an understanding of:
one's positive impact on others.
practices designed to work towards building justice across race, ethnicity, culture, gender, sexual orientation, socio-economic status, ability, and/or religion.
civic engagement/service learning opportunities in the greater community.
the connection between civic engagement and social justice.
the Social Change Model of leadership development.