Register for the Fall 2019 Leadership Certificate Series Workshops!
This semester, Leadership and Organizational Development will offer Discovery Leadership, Emotionally Intelligent Leadership, and Impact Delta. 
Discovery Leadership is designed for students at the beginning of their leadership journey who are interested in exploring and developing their leadership potential. The program will develop students' leadership competencies through self-reflection, experiential learning, exploration of team dynamics, cross-cultural communication, and civic engagement.
Emotionally Intelligent Leadership is designed for students who are interested in exploring their personal strengths in relation to their leadership style. The program will allow students to develop an understanding of their emotions and effective methods for managing their emotions.
Impact Delta is designed for all students who have demonstrated an interest in leadership, social change, and social justice that also have a desire to make a large and positive impact on the Storrs community.
Each workshop runs for 9 weeks, starting the week of September 23rd. You will select the night you wish to attend for the entire 9 weeks. Please be honest in answering all of the following questions. Your answers to the questions will help us determine which workshop and section would be most beneficial for you.
We value varying backgrounds and experiences and encourage all students to register. If you have any questions, please visit our website, email studentleadership@uconn.edu, or call us at 860-486-6588.
Registration is now open for the Fall 2019 Workshops. Apply here!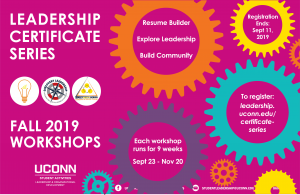 Sign up for a Fall 2019 Workshop here!